Teachers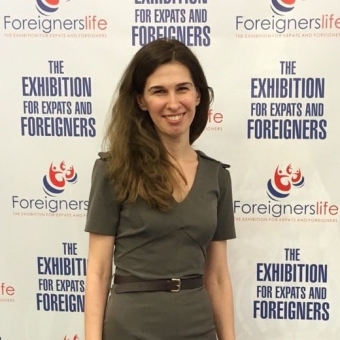 Teaches Russian
Russia
39 years
Saratov State University named after N.G. Chernyshevsky
Teaching experience - 11 years
Nationality - Russian
Привет! Меня зовут Екатерина, мне 34 года. Я преподаватель русского языка как иностранного. В детстве я окончила музыкальную школу и развитый музыкальный слух помогает мне объяснять фонетику и ставить правильное произношение для своих учеников. В 2005 г. я окончила Саратовский ...
Привет!
Меня зовут Екатерина, мне 34 года. Я преподаватель русского языка как иностранного.
В детстве я окончила музыкальную школу и развитый музыкальный слух помогает мне объяснять фонетику и ставить правильное произношение для своих учеников.
В 2005 г. я окончила Саратовский Государственный Университет им. Н. Г. Чернышевского, получив квалификацию преподаватель по специальности «Филология».
В течение 10 лет, после окончания университета, я проработала в маркетинге и рекламе. Здесь я получила 2-е высшее образование по специальности Маркетолог и дополнительное образование по дизайну, интернет-продвижению и рекламе. Полученный опыт помогает мне ориентироваться на потребности обучаемых и использовать профессиональную лексику в бизнес-курсах русского языка.
Идея – стать преподавателем русского языка как иностранного появилась после путешествий по странам США, Канады, Европы, где я познакомилась с интересными людьми. У меня возникло желание донести до людей богатство и широту русского языка и литературы, познакомить их с особенностями русской культуры.
С 2012 г. я прошла удаленный курс в МГУ им М.В. Ломоносова по методике преподавания русского языка как иностранного и устроилась на работу в ISpeak Center. Здесь я получила первый опыт преподавания в группах уровней А1-В1 для детей и взрослых, узнала какие учебные материалы работают на практике.
С 2013 г. я веду уроки русского языка как иностранного частным образом для Топ-менеджеров иностранных компаний с семьями и преподавателей-носителей иностранных языков, живущих в России. В 2015 году я прошла курс повышения квалификации для преподавания русского языка как иностранного в Российском университете дружбы народов.
Я уверена, что образование и полученный опыт работы помогут вам оперативно достичь высоких результатов в освоении русского языка как иностранного.
Hello!
My name is Ekaterina, I`m 34 years old. I`m a teacher of Russian as a foreign language.
I finished a music school in childhood and musical ear helps me to explain phonetics and pronunciation to my students.
In 2005, I graduated from Saratov State University named after N.G. Chernyshevsky and received a Philology degree.
After university, I worked for more than 10 years in marketing and advertising. I also studied for another degree in marketing and finished additional trainings in design, internet promotion and advertising. The experience I received helps me now to prepare business courses for my students.
The idea to be a teacher of Russian came to me after a trip to the USA, Canada and Europe where I met a lot of interesting people. I had a great desire to show them the richness of the Russian language and culture.
In 2012, I took the course "Methods of teaching the Russian language" in Moscow State University named after M.V. Lomonosov and got a job in ISpeak Center. There I had my first experience of teaching Russian to children and adults with levels A1-B1.
Since 2013, I have been conducting lessons privately for Top managers of foreign companies, their families and native English teachers living in Russia. In 2015, in addition, I passed a refresher course in Scientia Unescamus for Russian teachers.
I hope my education and experience will help you to achieve results in studying Russian quickly.
Feedbacks
Ekaterina takes extra time during lessons, to help me learn more effectively, and in general, goes the extra mile to help me learn. Her patience, kindness, and dedication to teaching is inspiring.
More feedbacks