Teachers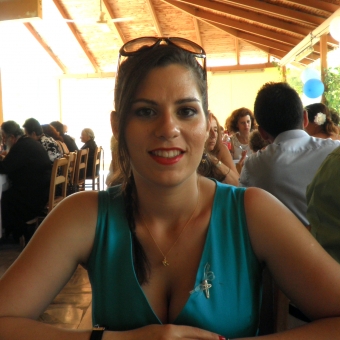 Teaches Greek
Greece
30 years
University of Ioannina (Greece)
Teaching experience - 9 years
Nationality - Greek
Καλώς ήλθατε στο Skype-Language.com! Με λένε Κωνσταντίνα και κατάγομαι από ...
Καλώς ήλθατε στο Skype-Language.com!
Με λένε Κωνσταντίνα και κατάγομαι από το Ναύπλιο, την πρώτη πρωτεύουσα της Ελλάδας. Από παιδί ήθελα να γίνω καθηγήτρια. Την επιθυμία μου αυτή πυροδότησαν οι εξαίσιοι δάσκαλοι που είχα την τύχη να με διδάξουν. Συνέβαλλαν στην απόφασή μου να χαράξω την επαγγελματική μου πορεία ακολουθώντας τα βήματα τους. Είχαν τις γνώσεις, την ηθική και την αγάπη, απαραίτητα στοιχεία για έναν εκπαιδευτικό. Έτσι λειτουργώ κι εγώ πιστή σε αυτές τις αξίες. Είμαι αυστηρή με τον εαυτό μου, θέτω δύσκολους στόχους και τους πετυχαίνω. Είμαι οργανωτική κι επίμονη στη δουλειά μου.
Αποφοίτησα με επιτυχία από τη Φιλοσοφική Σχολή (τμήμα Ιστορίας & Αρχαιολογίας) του Πανεπιστημίου Ιωαννίνων. Το αντικείμενό μου είναι η Ιστορία. Τώρα κάνω το μεταπτυχιακό μου στη Βυζαντινή Ιστορία, την ιδιαίτερη αγάπη μου. Έχω δουλέψει ως καθηγήτρια ιδιαίτερων. Προετοίμαζα μαθητές για ενδοσχολικές και εξετάσεις εισαγωγής στην ανώτατη εκπαίδευση, διδάσκωντας Νεοελληνική Γλώσσα, Αρχαία Ελληνικά, Ιστορία, Λογοτεχνία και Λατινικά. Το μάθημα της Ελληνικής Γλώσσας είναι αυτό στο οποίο ειδικεύομαι. Πέρα απ'το υλικό που χρησιμοποιώ, το μάθημα γίνεται ευχάριστο μέσα από τη συζήτηση, το σχολιασμό άρθρων και ταινιών. Η μέθοδος αυτή είναι κατάλληλη για όποιον θέλει να μάθει Ελληνικά, αλλά και εκείνον που θέλει να εξοικειωθεί με τον προφορικό λόγο.
Σας προσκαλώ στο ταξίδι γνώσης της γλώσσας και του πολιτισμού μας.
Welcome to Skype-Language!
My name is Konstantina and I come from Nafplio, the first capital city of Greece. Since I was a child, I have been dreaming of becoming a teacher. I was inspired by the superb teachers that I was lucky to have, who contributed to my decision to follow their steps in my career. Knowledge, morality and love for what you are doing are the main characteristics for a tutor, and I am strongly loyal to these values in my work. I am strict with myself. I like to pose difficult targets and achieve them. I am organized and persistent in my job.
I have successfully graduated from the School of Philosophy at University of Ioannina (department of History and Archaeology). My specialty is History. Now I am doing post-graduate studies in Byzantine History, a subject I love.
I have worked as a private tutor. My students were in High School and Junior High School. I prepared them for school exams and for the national university entrance exams. I have taught Modern Greek, Ancient Greek, History, Literature and Latin.
I specialize in the subject of Modern Greek. I use a lot of different materials and try to make my lessons pleasant through conversation – discussion of films, texts on various topics, etc. This method is appropriate for everyone who wants to learn Greek, but also for those who want to improve only their speaking.
I invite you to the trip of knowledge through our language and culture.
Feedbacks
Konstantina is just great. Worthless to say that she is a native speaker which was critical in my case as I wanted to have a correct pronunciation from the start, Konstantina is also highly organized, motivated and makes you motivated as well. I have started from zero level and after some months I can say I understand already a lot - I really enjoy the result! Many thanks to Konstantina for this and for sure I recommend her to those who'd like to learn Greek.
More feedbacks