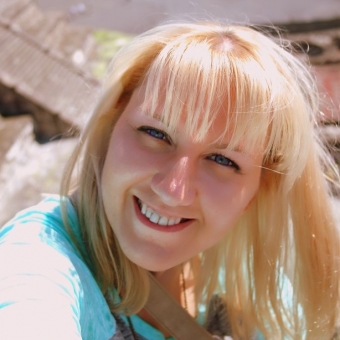 Anastasia L
native language - russian
Work experience:
12 years
Education:
Siberian Federal University, Institute of Philology and Language Communication
Hi! My name is Anastasia! I am an English and Spanish teacher!
I love my job, especially because I can always see the results and achievements of my students, see their ability to speak English and Spanish with confidence, increase their motivation and share my passion for languages. I also love my job because not only can I share knowledge, but I also learn a lot of new things from my students, I meet interesting and talented people. I treat my students with kindness, patience and respect, I always want to motivate and encourage them.
I am a teacher with extensive experience and I have been working with students of all ages. I try to present information clearly but emotionally, with passion and love for the language. My lessons are based on the communicative approach when the student is in the center of attention and can actively participate and speak the language most of the time during our classes. I use books by major British, American and Spanish publishers, but also a variety of real-life materials, like different podcasts, videos, texts and interesting games.
I love travelling, I used to live in the United States and I was a volunteer and worked as an English teacher in different countries, like Mexico, Indonesia, Vietnam, Morocco, China.
I am an active and positive person, curious and open-minded. I have a great interest in cultures, especially of English and Spanish speaking countries, their history, art and architecture. And I'm always happy to share my knowledge and experiences with students.
Why do students choose this teacher?
Has extensive teaching experience
Always interesting to organize classes
Provides a huge base of teaching material
Try free
Book a trial lesson and appreciate all the advantages of learning at Skype-language.com
Thank you! Your message has been successfully sent, the form is successfully sent.
Next

Courses taught