Teachers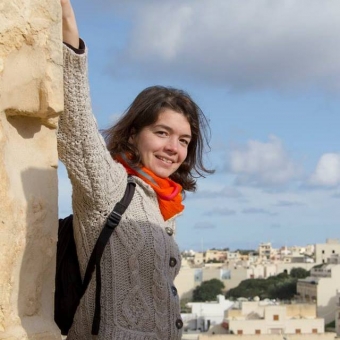 Teaches Russian
Russia
35 years
Moscow State Pedagogical University
Teaching experience - 7 years
Nationality - Russian
Здравствуйте! Меня зовут Екатерина. Я преподаю русский язык иностранцам около двух лет. В работе я ориентируюсь на потребности студента (цели, задачи, интересы, уровень владения языком, пожелания…). В связи с этим, к каждому студенту вырабатывается особый подход, который позволяет ...
Здравствуйте!
Меня зовут Екатерина. Я преподаю русский язык иностранцам около двух лет. В работе я ориентируюсь на потребности студента (цели, задачи, интересы, уровень владения языком, пожелания…). В связи с этим, к каждому студенту вырабатывается особый подход, который позволяет максимально быстро и эффективно добиться успеха в изучение русского языка, сдать экзамен, вести бизнес, жить в русскоязычной среде и общаться с людьми.
Основой любого языка является общение, поэтому в работе я опираюсь на коммуникативную методику, дополняя ее теми материалами и упражнениями, которые могут помочь учащемуся понять правила и научиться применять их на практике. Кроме того, изучая иностранные языки сама (владею английским и в университете изучала греческий), я заметила, что одна из наиболее сложных задач – это понять, что тебе пытается сказать собеседник. Поэтому, начиная с первых уроков, я включаю аудирование в рабочий процесс. И надо отметить, что эта практика дает хороший результат.
По мере повышения студентом уровня владения языком, стараюсь исключать применение языка-посредника, использую простые и интернациональные слова. Такой подход позволяет ускорить темп усвоения языка.
Я люблю свою работу, поскольку она никогда не бывает однообразной и постоянно заставляет развиваться, искать новые методы и подходы к студентам, придумывать новые упражнения и совершенствовать владение языками-посредниками.
Hello!
My name is Ekaterina. I've been teaching Russian as a foreign language for about 2 years. In my job, I rely on my students' needs (goals, interests, abilities, wishes…). That's why I adopt an individual approach to every student and look for specific methods that will allow him/her to master the Russian language faster and more effectively, pass a Russian exam, run successful business, live comfortably in the Russian-speaking environment and communicate easily to Russian people.
The main base for any language is interaction, which is why I mainly use the communicative approach in my job, and then combine it with useful explanations and exercises. I've also learnt from experience (I speak English and a little Greek) that the most difficult skill is to understand what another person is saying, therefore, I include audio tasks into the course from the very beginning. This practice gives good results.
As soon as my student gets by in Russian, I stop using the lingua franca (usually English) and start to speak mostly Russian using simple and international words. This helps improve understanding of the new language.
I love my job because it's never boring. It's also a good stimulus for professional and personal development, for searching new effective teaching methods and techniques, and for improving my other language skills.
Feedbacks
I found the course to be very useful. Ekaterina is very structured and understood the exact purpose on why I am learning Russian so she had prepared the applicable course with concentration on certain vocabulary. My Russian clients are often impressed when I speak Russian to them which is thanks to Ekaterina's effort.
After many years of looking for a structured way of learning Russian as a foreign language, I am very happy to have found this company! My daughter established an excellent working relationship with her teacher Ekaterina Krasnova and I am pleased with her progress! I recommend Skype-Language to anyone who's after a structured quality tutoring. Marina Kim
More feedbacks