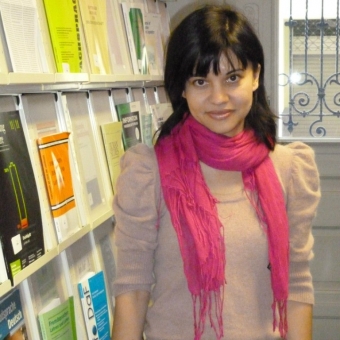 Dani
native language - russian
Work experience:
20 years
Education:
Chuvash State University
Здравствуйте,
Меня зовут Дания. У меня большой опыт преподавания немецкого языка как в вузах, так и на частных курсах. Я окончила аспирантуру при Нижегородском лингвистическом университете. Три раза я становилась стипендиатом Германской службы академических обменов и выезжала в Германию на стажировки. Обучение в немецких университетах внесло большой вклад в совершенствование моих языковых навыков и, несомненно, способствовало усвоению многих новых педагогических приемов. С удовольствием помогу Вам в изучении немецкого языка, будь то обучение разговорной речи, бизнес немецкому или подготовка к международным экзаменам DaF. Не зря же говорят, что иностранцы изучают русский язык, чтобы прочесть в оригинале Достоевского и познать русскую душу, так и нам следует поучить немецкий, чтобы прочесть в оригинале Гёте и познать душу немецкую. Жду Вас на своих уроках!
Hallo!
Ich heiße Danija. Ich arbeite schon seit langem als Deutschlehrerin. Ich bin promoviert. Mehrere Male wurde ich DAAD-Stipendiatin, was mir ausreichend Möglichkeiten bereitete, das Land und die Sprache besser kennenzulernen. Außerdem konnte ich beim Besuch verschiedener Lehrveranstaltungen an den deutschen Unis viel von Lehrmethodik schöpfen. Ich würde Ihnen gerne beim Erlernen der Sprache von Goethe behilflich sein. Ich hoffe, Sie werden sich für meinen Unterricht entscheiden! Bis bald!
Why do students choose this teacher?
Completed an internship in Germany
Has extensive teaching experience
Prepares interesting materials for classes Занимаюсь немецким языком с преподавателем Дания. Мне очень нравится как проходят наши занятия. Сначала я не думала, что по скайпу можно учить язык. Но в итоге оказалось это очень удобно. Я довольна, ...
Занимаюсь немецким языком с преподавателем Дания. Мне очень нравится как проходят наши занятия. Сначала я не думала, что по скайпу можно учить язык. Но в итоге оказалось это очень удобно. Я довольна, что мне предложили именно этого преподавателя. За время наших занятий появились реальные знания языка, которые уже можно применять в жизни. Буду с удовольствием и дальше продолжать наши занятия!
Read more
Try free
Book a trial lesson and appreciate all the advantages of learning at Skype-language.com
Thank you! Your message has been successfully sent, the form is successfully sent.
Next

Courses taught