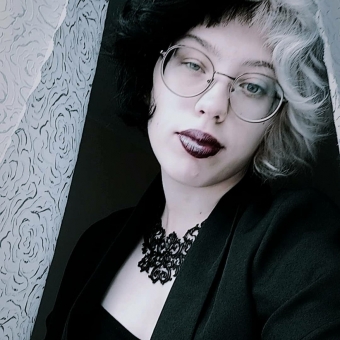 Regina
native language - russian
Education:
Saint Petersburg State University
Guten Tag! Mein Name ist Regina.
Seit meiner Kindheit lerne ich Deutsch und kann mir keinen Tag ohne diese Sprache vorstellen. Deutsch ist wunderschön! Seit über zwei Jahren unterrichte ich Deutsch. Ich habe es geschafft, eine Olympiade zu gewinnen, ein paar Prüfungen zu bestehen, Deutschland zu besuchen und viele lustige Geschichten zu sammeln, mein Studium an der Staatlichen Universität Sankt Petersburg zu beginnen. Ich liebe Deutsch und helfe Ihnen, sich in es zu verlieben. Wir werden die Sprache auf unterhaltsame und produktive Weise lernen. Mein Hauptziel ist es, den Lernprozess zu einem Vergnügen zu machen, damit Sie wirklich mit nteresse an meinen Kursen teilnehmen könnten.


Ich konzentriere mich auf die Entwicklung von Sprachkenntnissen: Diskussionen, Bildbeschreibung, Videos und Geschichten. Ich werde Ihnen einige Aspekte der deutschen Geschichte erzählen. Und Sie können auch herausfinden, was in den Texten von der beliebten Band Rammstein versteckt ist. Natürlich werden wir auch auf die Grammatik achten. Ich interessiere mich für Ihre Persönlichkeit, deshalb versuche ich immer, nach dem Lernstoff zu suchen, der für Sie interessant wäre. Ich möchte wissen, wer Sie sind, ich möchte Ihre Geschichte auf Deutsch hören. Ich verspreche Ihnen eine angenehme Atmosphäre und eine freundliche Einstellung.

Ich warte auf Sie!
Hello everyone! My name is Regina,
I have been studying German since childhood and I can't imagine a day without this language. I have been teaching German successfully for over two years. I managed to win the contest in German, pass the Unified State Exam, visit Germany and accumulate many funny stories, enter the St. Petersburg State University. I adore German myself and will help you fall in love with it, too. We will learn the language in a fun and productive way. My main goal is to make the learning process a pleasure, so that you can really attend my classes with interest and understand that German is incredible!


I focus on the development of language skills: discussion, description of pictures, videos and stories. I will tell you some aspects of German history and advise some interesting films. And you can also find out what the popular group Rammstein sings about. Of course, we will also pay attention to grammar. I am interested in the personality of the student, so I always try to look for something that would be interesting to you. I want to know who you are; I want to hear your story in German. For my part, I guarantee you a pleasant atmosphere, friendly attitude, answers to all your questions, as well as a bit of my characteristic sense of humor.

I will be waiting for you in my class!
Why do students choose this teacher?
Speaks German since childhood
Seeks to make a learning process fun
Knows aspects of German culture and history
Try free
Book a trial lesson and appreciate all the advantages of learning at Skype-language.com
Thank you! Your message has been successfully sent, the form is successfully sent.
Next

Courses taught